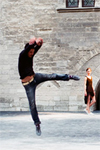 En Atendant
på Sadler's Wells
Pris fra 247 kr
Anne Teresa De Keersmaeker and her company Rosas return to Sadler's Wells with two of their most recent works, En Atendant and Cesena. Cesena is a celebration of dawn, while En Atendant captures the merging of twilight into night. Performed by eight dancers, three musicians and one singer, En Atendantrepresents De Keersmaeker's continuing exploration of how music and dance work together, using Ars Subtilior as a starting point. A complex form of 14th century polyphony based on dissonance and contrast, Ars Subtilior was developed in the aftermath of plague and religious conflict in Europe and is cleverly used here to reflect the chaos of our own time.
Arenainfo.
Forestillingsinfo.
Aftenforestillinger
Monday and Tuesday 7.30pm
Spiller fra
2012-11-05
Spiller til
2012-11-06
Find teatret
Find teatret
Benyt Northern Line til Angel Station. Herfra er der ca. 10 min. gang til teatret.

Kort